atest WGA crack is 100% working on Windows Update, Microsoft Download Center and no nag screens.                                                    **********
Install Notes:
1. Extract into a new empty folder
2. Run installer.bat
 Download Windows Genuine Advantage v1.7.17.0 Crack  
Download Windows Genuine Advantage v1.7.17.0 Crack MIRROR 
**********
Windows Media Player (WMP) 11 for XP has been released which is available for direct full download from Windows Media Player Download page (no validation required), or Microsoft Download Center (WGA validation required), and Microsoft decided to add a WGA check to the installation routine.

trick 4 Media Player 11 installation and the Internet Explorer 7 installation.
you can download this registry file, executed it and start the windows media player 11 for xp installation and it should go through passing the WGA check without problems. Suspicious users should check the registry file before they double-click it and make a backup of their registry.
OR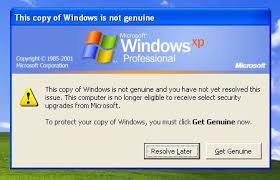 After you download that Windows Media Player 11 from Microsoft website, use any compression utility, such as Winrar, to extract the WMP11 installer to a temporary directory. You can right click on the setup file and choose any Extract option or launch the extraction utility and choose the WMP11 setup file to extract it.
Then download LegitLibM.dll.rar note rename the file to LegitLibM.dll as microsoft edited it ("i edited this post afer a good reply comment from our Geek visiter")and extract it. Copy that extracted legitlib.dll and paste legitlib.dll into the extracted directory of WMP11 installer. Overwrite any existing file.
Run setup_wm.exe. and done. You can install Windows Media Player wmp 11 Beta accordingly.